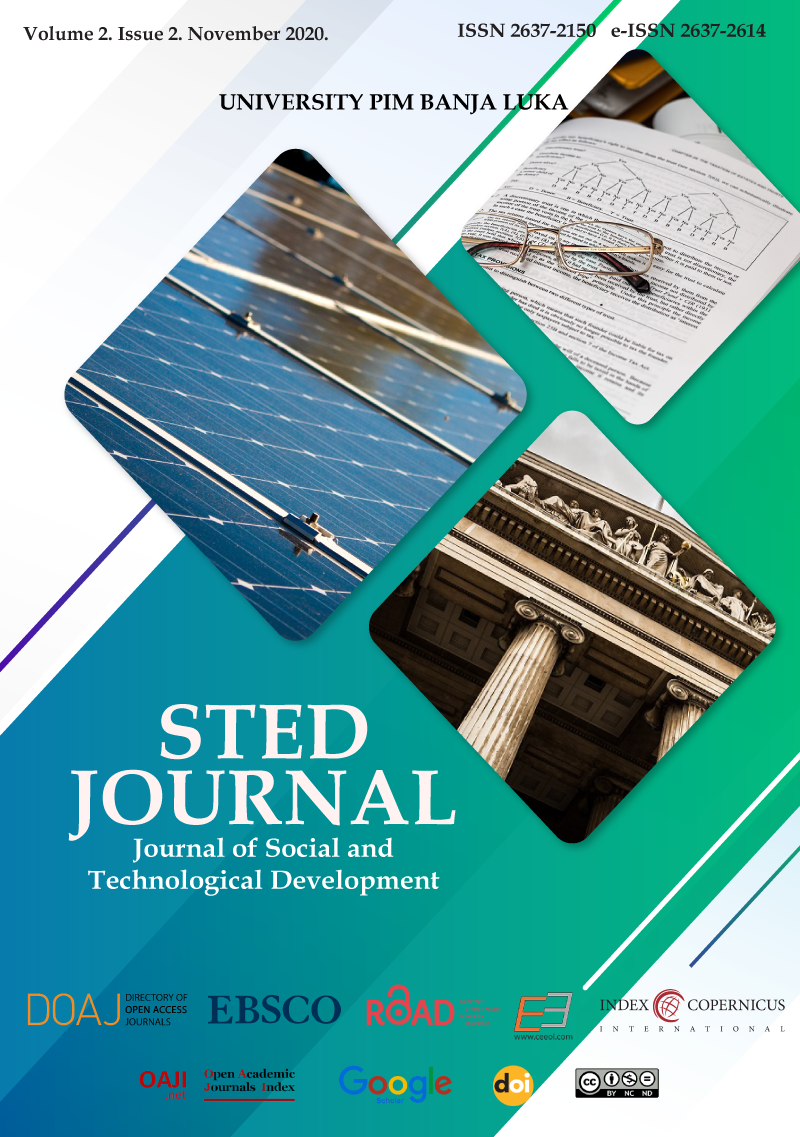 Izdavač: Univerzitet PIM, Banja Luka
STED Journal izlazi u štampanoj i elektronskoj formi.
ISSN 2637-2150 (štampana verzija)
e-ISSN 2637-2614 (elektronska verzija)
Časopis izlazi polugodišnje, u maju i novembru.
Svi radovi su ocjenjeni od strane dva nezavisna, anonimna recezenta.
Kotizacija 100 KM (50 EUR).
Za korespodenciju koristite mail: stedjournal19@gmail.com
STED Journal - Volume 2. Issue 2. 2020.
CONDUCTOMETRIC STUDY OF LIGAND STRUCTURE INFLUENCE ON THE Pb(II) COMPLEXATION WITH CROWN ETHERS
Edita Bjelić, Mersiha Suljkanović, Jasmin Suljagić, Azra Kovačević
---
MECHANICAL ANALYSIS OF THE ROTATING DRAWING MANDREL WITH SELECTED BEARINGS CONFIGURATION
Frantisek Botko, Michal Hatala, Dominika Botkova, Svetlana Radchenko
---
APPLICATION OF THE CRITERION OF TECHNOLOGICAL DAMAGEABILITY IN MECHANICAL ENGINEERING
Yaroslav Kusyi, Аndrij Кuк, Oleh Onysko, Tetiana Lukan, Lolita Pituley, Iryna Shuliar, Yurii Havryliv
---
BASICS OF AUTOMATION OF PROFILING OF HIGH-EFFICIENT INSERTS OF THE TOOL FOR THREAD MACHINING
Oleh Onysko, Tetiana Lukan, Lolita Pituley, Iryna Shuliar , Yurii Havryliv
---
CYBER CRIME IN PAKISTAN; DETECTION AND PUNISHMENT MECHANISM
Ubair Anjum
---
COMPANY ANTI-BRIBERY MANAGEMENT SYSTEM
Zdravko Todorović, Darko Tomaš, Boris Todorović
---
THE ANALYSIS OF BUREAUCRACY REFORM ON A PUBLIC SERVICE IN THE FIELD OF INDONESIAN COMMUNITY HEALTH
Linda Puspitasari, Hardi Warsono, Sundarso

---
POLITICAL CHARACTER OF NATIONALISM
Danijela Lakić
---
PROCESS APPROACH TO CREATING A COMPANY PERFORMANCE MODEL
Zdravko Todorović, Boris Todorović, Slađenko Galić
---
IMPACT OF MODERN COMMUNICATION TECHNOLOGIES ON ONLINE LEARNING
Frane Marjanica, Ante Projić, Tomislav Seser, Maja Marjanica

Sted Journal je časopis sa otvorenim pristupom, što podrazumjeva da je kompletan sadržaj dostupan bez nadoknade. Korisnicima je dostupno čitanje, preuzimanje, kopiranje, distribucija, štampanje, pretraživanje ili dijeljenje punih tekstova radova bez prethodne saglasnosti izdavača ili autora.
U časopisu će biti objavljivani radovi naučnog i stručnog karaktera, na službenim jezicima BiH i na engleskom jeziku, iz više različitih naučnih oblasti: ekonomije, menadžmenta, prava, informacionih tehnologija i računarstva, industrijskog inženjerstva, energetske efikasnosti, zaštite životne sredine, zelene energije, materijala, hemijskog inženjerstva i tehnologija, grafičkih tehnologija, psihologije, adragogije i pedagogije