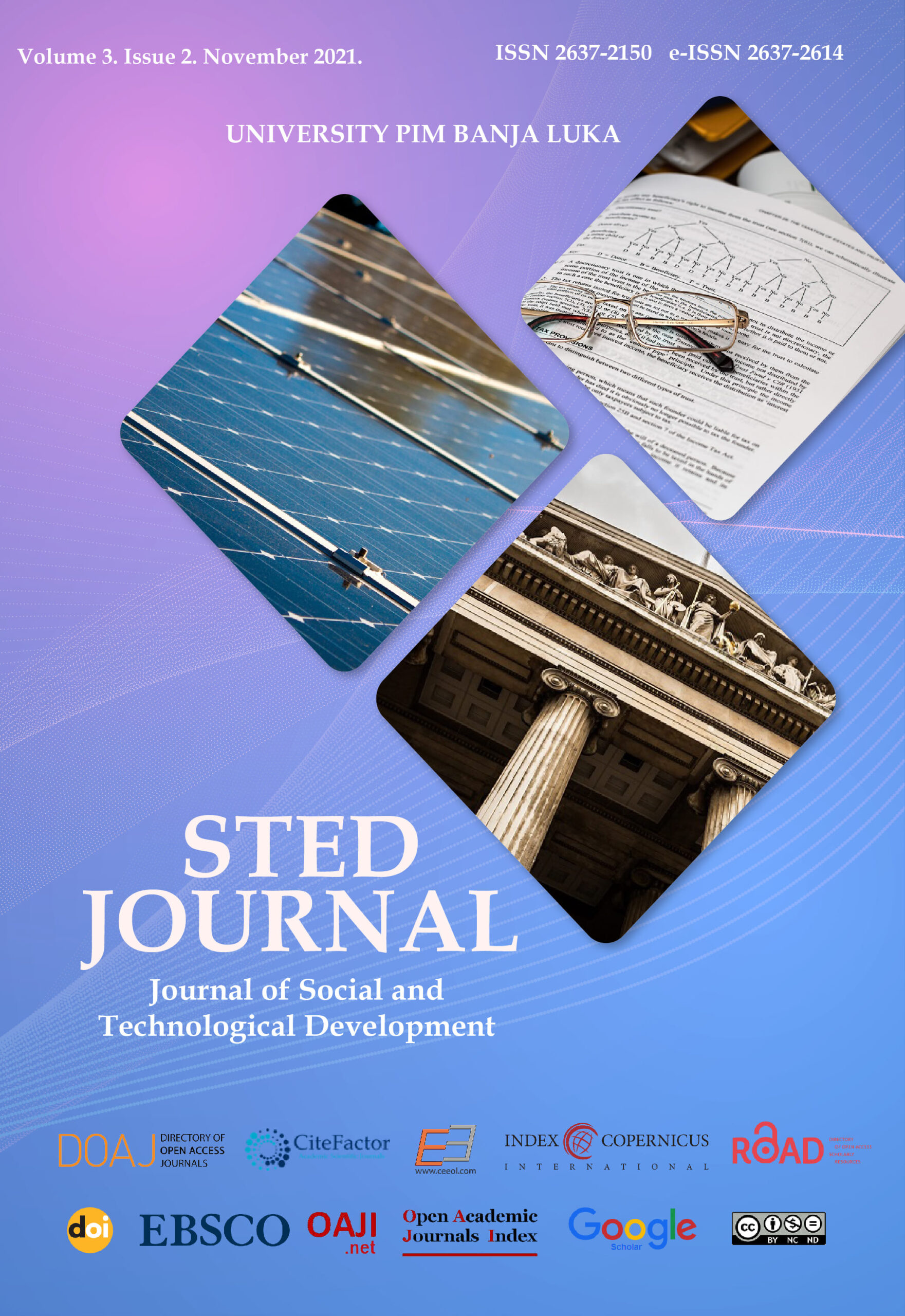 Izdavač: Univerzitet PIM, Banja Luka
STED Journal izlazi u štampanoj i elektronskoj formi.
ISSN  2637-2150 (štampana verzija)
e-ISSN  2637-2614 (elektronska verzija) 
Časopis izlazi polugodišnje, u maju i novembru.
Svi radovi su ocijenjeni od strane dva nezavisna, anonimna recezenta.
Kotizacija 100 KM (50 EUR).
Za korespodenciju koristite mail: stedjournal19@gmail.com
STED Journal - Volume 3. Issue 2. 2021.
FABRICATION OF TEMPERATURE AND pH SENSITIVE BIOPOLYMER/CLAY BIOCOMPOSITE AS DRUG CARRIER FOR RANITIDINE – HCl
Vesna Teofilović, Busra Agan, Davut Lacin, Jelena Pavličević, Mirjana Jovičić, Nevena Vukić, Ayse Z. Aroguz

---
INFLUENCE OF SOCIO-DEMOGRAPHIC FACTORS ON MOTIVATION FOR WORK
Danijela Jokanović
---
EARLY FAMILY INTERACTIONS IN CASE OF SEXUAL DELINQUENTS
Snežana Samardžić, Spasenija Ćeranić
---
BOSNIA AND HERZEGOVINA AND THE EUROPEAN UNION – STILL FAR AWAY FROM INTEGRATION
 Manja Đurić Džakić
---
SPECIFICITY OF RADIO ENVIRONMENT, ITS POTENTIALS AND THE ISSUE OF SURVIVAL
Jovana Bokan
---
TERRITORIAL DECENTRALIZATION AS A FACTOR OF DISPUTES ON CONFLICT OF JURISDICTION WITH SPECIAL REFERENCE TO BOSNIA AND HERZEGOVINA
 Sandra Pajić Šavija
---
DIGITAL ECONOMY DEVELOPMENT IN GEORGIA IN THE CONTEXT OF DIGITAL DIVIDE
Tsotne Zhghenti
---
SITUATION OF SECURITY MARKETING IN BOSNIA AND HERZEGOVINA AND REPERCUSION ON BUSINESS ENVIRONMENT; IMAGE AND STAKEHOLDERS
Saša Mitrić
---
CURRENT STATE OF USE OF THE CONCEPT OF CIRCULAR ECONOMY IN THE AUTOMOTIVE INDUSTRY IN SLOVAKIA
Rudolf Pástor, Gabriela Mezeiová, Anna Krivjanska
---
CONSTITUTION AS A STIMULATION FACTOR OF CONSTRUCTION SOCIOCULTURAL CAPITAL
Nikša Grgurević, Saša Mitrić
---
PERFORMANCE CRITERIA IN THE FUNCTION OF CONTROL
Dijana Kremenović
---
APPLICATION OF MODERN TELECOMMUNICATION TECHNOLOGIES OF DISTANCE PLANT DIAGNOSTICS
Mustafa Kovačević, Veljko Vuković
Sted Journal je časopis sa otvorenim pristupom, što podrazumijeva da je kompletan sadržaj dostupan bez nadoknade. Korisnicima je dostupno čitanje, preuzimanje, kopiranje, distribucija, štampanje, pretraživanje ili dijeljenje punih tekstova radova bez prethodne saglasnosti izdavača ili autora.
U časopisu će biti objavljivani radovi naučnog i stručnog karaktera, na službenim jezicima BiH i na engleskom jeziku, iz više različitih naučnih oblasti: ekonomije, menadžmenta, prava, informacionih tehnologija i računarstva, industrijskog inženjerstva, energetske efikasnosti, zaštite životne sredine, zelene energije, materijala, hemijskog inženjerstva i tehnologija, grafičkih tehnologija, psihologije, adragogije i pedagogije